MENU





Our address


33 Astronomicheskaya str.,
Tashkent, 100052, Uzbekistan
Phone : +998 71 2358102
Fax: +998 71 2344867
E-mail: info@astrin.uz

Scientific and educational observatory in Tashkent at the Pedagogical University




About the observatory


On August 28, a new educational observatory was opened at the Ulugh Beg Astronomical Institute. Educational observatory of the Tashkent State Pedagogical University named after Nizami, which trains a teacher in astronomy for schools, colleges. The new observatory has a Celestron 14 inch telescope with Schmidt-Cassegrain optical system. The telescope has been upgraded. Access to the observatories is open to everyone who is interested in the study of celestial bodies.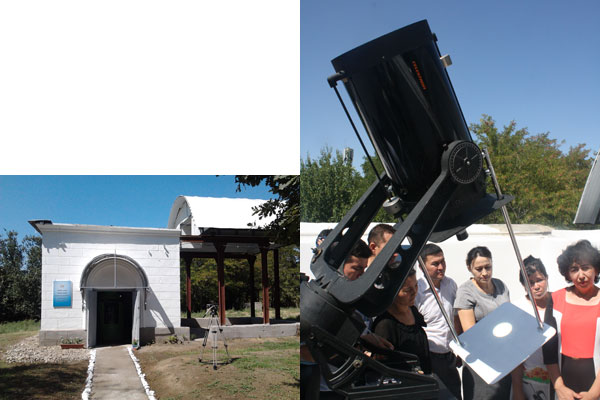 In addition to scientific projects, the Ulugh Beg Astronomical Institute also carries out general educational projects. The main task of the latter is to popularize astronomy, as well as to assist educational institutions with astronomical departments. Within the framework of these projects, it is planned to create a whole network of scientific and educational observatories on the basis of the universities of the republic.



The telescope of the observatory will be used for laboratory, term papers and theses of university students. It should also be noted that the potential of this tool allows it to be used not only in practical training sessions, but also to perform research tasks.


Observatory instruments


Celestron 14 inch telescope

(read more ...)

Manufacture:

USA


Mounting type:

Alt-Azimutal


Primary mirror:

diameter 350mm


Focal ratio:

3910


Type of optical system:

Schmidt-Cassegrain system


Equivalent focal length:

3438mm


Equivalent focal ratio:

f\11

CCD camera
Manuals & Documentation


Contact Information


Scientific and educational observatory at the Tashkent State Pedagogical University

Ulugh Beg Astronomical Institute
33 Astronomicheskaya str.,
Tashkent, 100052, Uzbekistan
Phone : (+998 71) 2358102
Fax: (+998 71) 2344867
E-mail: info@astrin.uz
Contact person: Asfandiyarov I. (ildar@astrin.uz)